Best Free File Cleaner – CCleaner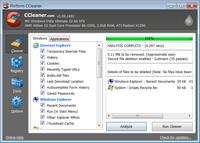 "Quickly and effectively remove unused or temporary files, unwanted cookies, and other unneeded files from applications."
Additionally, it can scan the registry for issues, erase, manage the startup, uninstall, and clean system restore points.
Also runs automatically at startup or as a task.
Best Free PC Tune-up Utility – Glary Utilities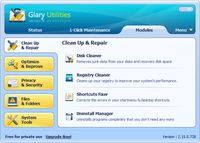 Allows one-click cleaning for standard cleaning tasks (registry errors, junk data, etc.). Includes many additional tools, such as an outstanding disk-space analysis feature. This is a powerful product, but many of its tools require user interaction and some are not as good as specialized programs."
All-in-one PC performance optimizer and tweaker to simplify system tasks that typically require many separate specialty programs.
Best Free Registry Cleaner – Wise Registry Cleaner (please backup before use)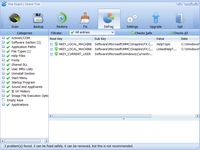 The effectiveness of registry cleaning is controversial and can lead to the need to completely re-install windows, but for computer savvy users it may help reduce potential conflicts from the leftovers of a few kinds of uninstalled software.
 "To decrease the likelihood of causing problems, it allows you to backup the registry before you start and (by default) ignores areas where most registry tricks are played. I caution against changing the default settings unless you have a good understanding of the registry and how applications use it."
Best Free Disk De-fragmenter – Auslogics Disk Defrag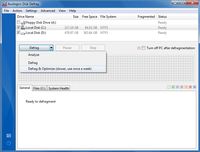 "The latest release is way ahead of the competition. I found the defragmentation time to be incredibly fast, and for the first time in a while, the long process of defragmenting my hard drive was shrunk to minutes.
Defragmenting your hard drive on a regular basis is a sound housekeeping habit. It can greatly increase system performance and relieve stress on your hard drive.
Best Free Secure Erase Utility – Eraser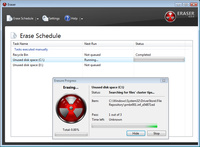 "Highly effective at wiping the free space, leaving behind only unrecoverable nonsense file names on modern size hard drives. It erases the unused disk space (or "free space"), cluster tips (or "slack space"), individual files or folders, and data in the recycling bin."
Normal file deletion doesn't prevent a common file recovery program from recovering your files, so eraser utilities are helpful to permanently delete any personally identifiable or unwanted files to protect your privacy.
Best Free Startup Manager – WinPatrol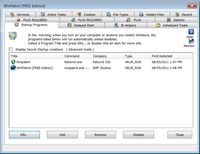 It runs in the tray to proactively stop programs from becoming startup apps without your permission (and as a bonus it can manage delayed startups).
It doesn't detect stealthily scheduled tasks, but along with Starter or CCleaner it's a good startup manager for average users to safely disable unwanted programs.
If you have a system full of programs running in the background or a start menu full of near useless tray icons, then startup managers are especially helpful for increasing system performance. Run programs when you want, not when they decide.