An Internet protocol camera, or IP camera, is a type of digital video camera commonly employed for surveillance, and which unlike analog closed circuit television (CCTV) cameras can send and receive data via a computer network and the Internet. Although most cameras that do this are webcams, the term "IP camera" is usually applied only to those used for surveillance.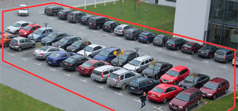 There are two kinds of IP cameras:
Centralized IP cameras, which require a central Network Video Recorder (NVR) to handle the recording, video and alarm management.
Decentralized IP cameras, do not require a central Network Video Recorder (NVR), as the cameras have recording functionality built-in and can thus record directly to digital storage media, such as flash drives, hard disk drives or network attached storage.
Potential advantages
Two-way audio via a single network cable allows users to communicate with what they are seeing (e.g. gas station clerk assisting a customer on how to use the prepay pumps)
Higher image resolution: IP cameras have a resolution of at least 640×480 and can provide multi-megapixel resolution and HDTV image quality at 30 frames per second.
Flexibility: IP cameras can be moved around anywhere on an IP network (including wireless).
Distributed intelligence: with IP cameras, video analytics can be placed in the camera itself allowing scalability in analytics solutions.
Transmission of commands for PTZ (pan, tilt, zoom) cameras via a single network cable.
Encryption & authentication: IP cameras offer secure data transmission through encryption and authentication methods such as WEP, WPA, WPA2, TKIP, AES.
Remote accessibility: live video from selected cameras can be viewed from any computer, anywhere, and also from many mobile smartphones and other devices.
IP cameras are able to function on a wireless network. Initial configuration has to be done through a router; after the IP camera is installed it can then be used on the wireless network. These cameras are used in navigation purpose in defence forces.
PoE – Power over ethernet. Modern IP cameras have the ability to operate without an additional power supply. They can work with the PoE-protocol which gives power via the ethernet-cable
Potential disadvantages
Higher initial cost per camera, except where cheap webcams are used. (Note – IP cameras are becoming cheaper as demand increases and as of June 2011 are available below 50 USD and compete favourably with analogue cameras
High network bandwidth requirements: a typical CCTV camera with resolution of 640×480 pixels and 10 frames per second (10 frame/s) in MJPEG mode requires about 3 Mbit/s.
Technical barrier. Most security systems including both CCTV and IP camera systems may require a professional technician to install the system, although a competent person can install an IP camera very easily, depending on make.
As with a CCTV/DVR system, if the video is transmitted over the public Internet rather than a private IP LAN, the system becomes open to hacking and hoaxing via internet. Criminals can hack into a CCTV system to observe security measures and personnel, thereby facilitating criminal acts and rendering the IP technology counterproductive.
We carry Axis Network Camera. It is widely known for its product innovation and service robustness.  Axis is the world leader in network video and offers a wide portfolio of  products for professional IP video surveillance.



Axis Network cameras

 


Axis Video encoders

 


Axis Camera applications

Axis Product selector

It is well suited in many industries
| | | |
| --- | --- | --- |
| | | |
| | | |
|   |   |   |
| | Healthcare | |
---