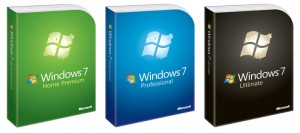 Here are the Windows 7 Home Premium, Windows 7 Professional and Windows 7 Ultimate (32bits – x86/64bits – x64) ISO images below:
32bits – Recommended for Business users with legacy applications – limited to 4Gb RAM
64bits – Recommended for All (more power and speed) – can access more than 4Gb RAM, however may face incompatibility with legacy applications and drivers. Cannot run old 16bits applications. Need to run XP Mode.
Simply, just select and downloading the disks (in ISO format) that you need.
1) Burn the ISO to a DVD – Use ImgBurn
2) Write to USB and Install – Use WinToFlash to make your Bootable USB stick.
Note : Please prepare your Windows Product Key ready for Product Activation.