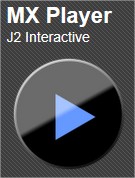 1. MULTI-CORE DECODING – MX Player is the first Android video player that performs multi-core decoding. According to the test results on dual-core devices, it shows up to 70% performance improvement than single-core devices.
2. HARDWARE DECODING – With new h/w decoder, more videos can take benefit from hardware acceleration.
3. SUBTITLE SCROLL – Scroll on subtitle text and playback position will be adjusted to match previous or next subtitle timing.
4. PINCH TO ZOOM – Easily zoom in and out by pinching and swiping across screen.
5. ANDROID 4.1 – Fully supports Android 4.1 Jelly Bean.
ScreenShot