1) Improve response times with powerful ticket management
Centralize all your customer conversations so nothing gets ignored and everything is searchable from one place. Easily organize, prioritize and engage with others on support requests to ensure your customers get accurate and timely responses.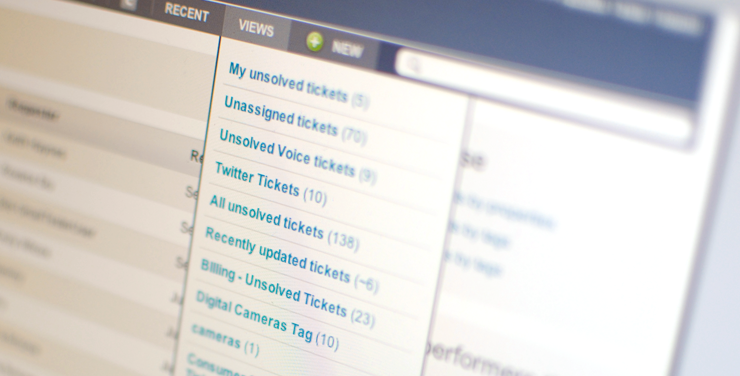 Quickly identify and respond to high-priority issues with the help of customizable Ticket Views.
Increase productivity by automating business rules, via triggers and automations, and creating predetermined responses to frequently asked questions, known as macros.
Collaborate with other team members, company-wide or with other Zendesk accounts, and delight your customers with accurate and timely responses.
2) Connect with your customers anywhere, anytime
Enable conversations via multiple customer support channels — web, email, phone, Twitter, Facebook, iPhone,iPad, Android, BlackBerry, online chat, community forums, knowledge bases and more.
Set up channels, such as phone support, in under 5 minutes.
Respond to support requests anytime, anywhere through our mobile apps for iPhone, iPad, Android and BlackBerry.
Provide proactive support through real-time monitoring and responding via social media channels such as Twitter and Facebook.
3) Gain instant insight into your support activities
Improve your support organization by effectively measuring team and individual performance, alongside customer trends. Our comprehensive reporting and analytics tools include more than 20 out-of-the-box, fully customizable, reports and dashboards.
Monitor support trends to better understand what has happened and intelligently predict future outcomes.
Use agent performance and ticket volume metrics to plan and optimize staffing needs.
Analyze customer satisfaction ratings to know exactly how happy your customers are with the support they have received.
4) Help customers help themselves
Unleash a vibrant online community for your customers, employees, and partners. Give your users the power to find answers and create conversation by building discussion forums and a knowledge base in your Zendesk.
Deflect incoming support requests to your help desk with a fully searchable knowledge base.
Enable an idea-sharing forum where customers can suggest and discuss their product needs and enhancements.
Leverage your community of customers for additional expertise and information sharing.
Extend the reach of your community by allowing your customers to share articles, ideas or questions with their favorite social networks.
5) We think about security so you don't have to
We not only help you stay on top of your customer conversations, but also ensure those conversations are private and secure. Our proven, cloud-based offering is protected by state-of-the-art security services at multiple levels, including physical security, infrastructure security, and application security.
TRUSTe Privacy Certification Program, and US-EU and US-Swiss Safe Harbor program compliant.
Tier 1 hosting provider that is certified SAS 70 Type II compliant.
Comprehensive and transparent privacy policy.