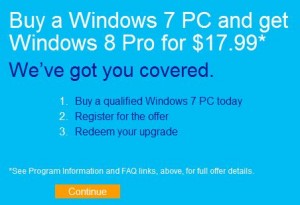 The offer is for customers (e.g. Home users, students, and enthusiasts) who purchase a qualified PC. A qualified PC is a new PC purchased during the promotional period with a valid Windows 7 OEM Certificate of Authenticity and product key for, and preinstalled with:
Windows 7 Home Basic
Windows 7 Home Premium
Windows 7 Professional
Windows 7 Ultimate
Buy Windows 7 PC between 2 June 2012 and 31 January 2013. You must order your Windows 8 upgrade by 28 February 2013.
Customers will be able to purchase a downloadable version of Windows 8 Pro. An optional installation DVD is available for an additional fee, plus shipping and any applicable taxes or duties. Customers can also choose to create their own installation media on DVD or USB media after downloading Windows 8.
http://windowsupgradeoffer.com/en-SG