We've got a little more to show you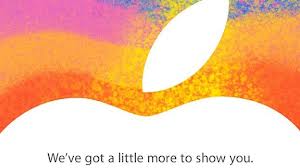 Apple has sent out an invite for an event on October 23. The invite states "we've got a little more to show you" – which we're assuming refers to the iPad Mini.
The company may also use the event to update the Mac Mini, iMac and bring out a 13-inch MacBook Pro with Retina display. Reports say that the new 13-inch display will boast a resolution of 2,560-by-1,650 pixels which is a pixel density of 230 pixels-per-inch, a slight step up from the 220 pixels-per-inch of the 15" MacBook Pro with Retina display.
An anonymous developer has used what appears to be a new version of the New iPad which was discovered in app analytics by MacRumors. The device is coded iPad 3,6, suggesting it is part of the current iPad family, which is coded iPad 3,1, iPad 3,2 and iPad 3,3.
This lines up with reports that the third-generation iPad will get a modest update at the event including the new lightning connector, possibly an updated A6 processor from the iPhone 5 and updated LTE support so it works in the UK.
According to analyst Ben A. Reitzes, the iPad Mini would not be a threat to Apple's current domination with the new iPad, and is likely to be a favourite among gamers as well as educational institutes, particularly with the electronic textbooks introduced earlier this year.
And if you were ever wondering, will Apple really go with the iPad Mini name, an "Asian source" quoted by a Japanese site seems confident that yes, it really will be called the iPad Mini .
Apple is known for its extravagant products, launch events and pricing policies, but the iPad Nano may herald a new era for those who long for an Apple device, but simply can't part with an arm and a leg to buy one.
With the reasoning behind a smaller tablet being to compete with the likes of the Nexus 7 and Kindle Fire at the lower end of the market, we expect the iPad Mini price to be competitive against its super-cheap competition.
The new iPad Mini would come with a 7.85-inch display – a tad bigger than the 7-inch screen found on the Kindle Fire and Nexus 7, and this screen size was confirmed by other sources "with knowledge of the project", while industry sources have also come out in favour of the 7.85-inch dimension.