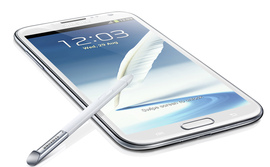 KOREAN PHONE MAKER Samsung has decided that it will start selling its large Galaxy Note 2 smartphone a day early.
Samsung has told us that it'll be giving punters the chance to get their hands on the phone a day before it goes on general sale from its flagship store at Westfield Stratford City in London. Samsung tells us the phone will be available from 12 noon on Sunday at that location, while other retailers and UK operators will start selling it from 9am the following day.
The company has also said that it will be offering keen first-day buyers the Galaxy Note 2 at an "exclusive price", although it still hasn't announced an exact price. We've been in touch to try to get some more information.
Simon Stanford, VP of telecommunications and networks at Samsung UK said, "We're pleased to announce that we are able to bring the Galaxy Note II to our Brand Store customers a day before it goes on general release in the UK.
"We've had a great response to this new device since first announcing it at IFA last month, so wanted to do something a bit special for it around launch day. We're looking forward to hearing what our customers have to say about the updated features and design of our latest Galaxy device when they get their hands on it this weekend."
Copyright By The Inquirer